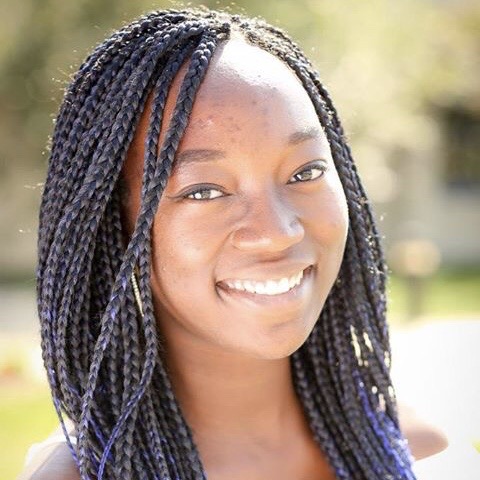 Some students stand out quickly at King's because they are happy to "put themselves out there."  Maybe they are a bit louder or simply involved in everything.  I don't think that is Olejuru.  I picture Olejuru slowly walking through the halls with a calm presence, a joyful smile, and chatty friends around her.  Over time, her thoughtfulness, willingness to serve, and excellence in the classroom made her well-known in a number of different circles on campus.  One of her gifts is found in her writing.  I posted three of her poems below for you to enjoy.  
Enjoy this Community in Quarantine conversation with Olejuru Anozie:
Download here: Olejuru Interview
Stream here:
Olejuru's poetry with explanation
Shadowy Spaces
Shadows. Spaces. Light. Dark. Grey. Constant noise, constant colour. Swimming in words, white, black, red. Breaking. The clock ticks, the people speak. I am a shadow; my eyes owned by the screen. How many like me sit and wonder, what is next, how many more, when will it end? Broken bodies become burdens. Stories intersecting in pieces, even when they can't touch.
This is a prose poem I wrote in response to my being overwhelmed by all the coronavirus news. The inspiration was gotten from a reflection I wrote during the promptive writing period of my Narrative Medicine practicum workshop. The prompt was "write about the shadowy spaces around you".
 Grandma's House
Today I saw a man with two kids.
He scolded his son, told him to sit still.
He tickled his daughter, I saw her sweet smile.
He gathered his kids in his arms; they left
And floated away to Nana's house.
This poem was inspired by a ride I took on the NYC subway. I saw a man interacting with his two young children, telling them that they would soon be at the stop they needed before walking to Grandma's house. It was such a sweet interaction I decided to write a poem about it.
March 26
Remember me,
Remembering. You
Remember us
Remembering. I,
Missing you.
This was written a few weeks ago on March 26th,2020 as I was thinking about the two year anniversary of my friend's death.